Got IT | Helping a man with physical challenges stay connected and thrive
We all know how important our physical health is, but until something happens to us, it's easy to take it for granted. Forty years ago, Kevin Duffy was an active young man with his whole life ahead of him until a horrific car accident left him with several physical challenges. Walking, talking, and doing anything with his hands are exceptionally difficult for Kevin. The simple tasks of living that require only minutes for most of us to perform can take Kevin hours.  Despite the challenges of daily life, Kevin lives on his own, drives a car, runs his own errands, and tends his own vegetable garden.
After moving from Arizona to be closer to family in Belfast, Maine, Kevin wanted to learn to use a computer so that he could stay connected to his friends in the southwest and gain access to the information and resources that exist online. He connected with Literacy Volunteers of Waldo County, a wonderful organization that helps men and women reach their full potential by improving by providing tutoring in a variety of areas including reading, writing, math and computer literacy.
As soon as she met Kevin, literacy volunteer Kachina Miller realized that using the library computer would be just another daily challenge, and Kevin needed a computer and internet access in his home to achieve his most aggressive education goals and stay in touch with his friends and family around the country. Fortunately for Kevin, give IT. get IT. has a great relationship with Literacy Volunteers of Waldo County. We sent Kevin a refurbished desktop computer with a touchscreen monitor and an assistive keyboard with oversized keys that are easier for Kevin to use.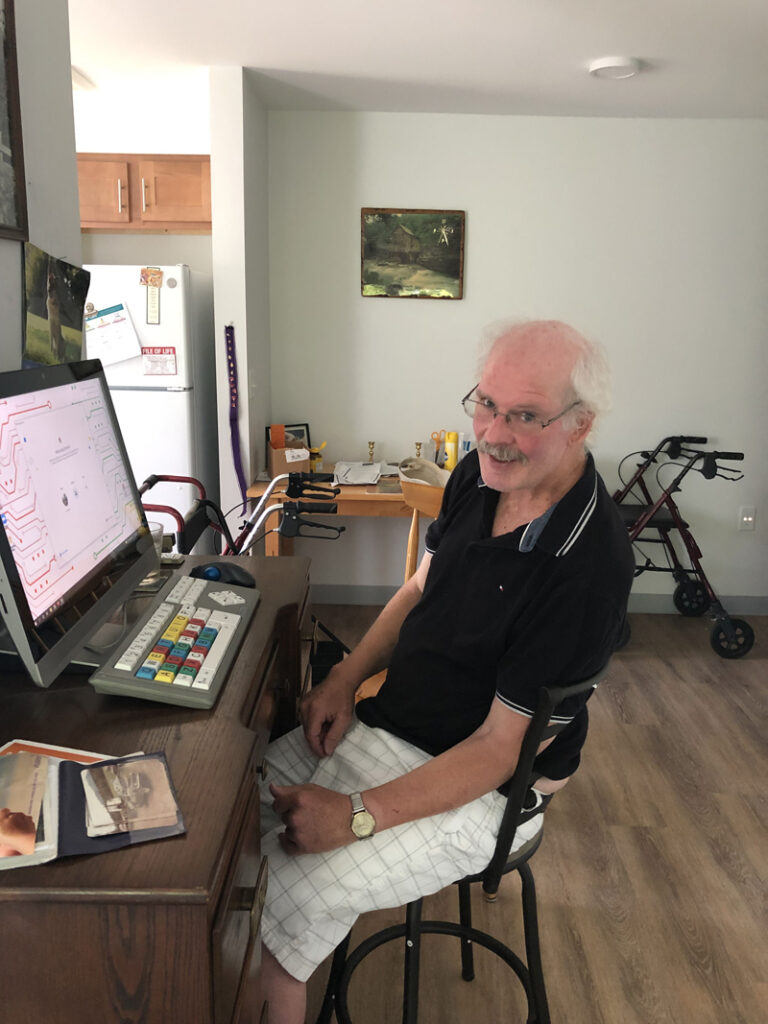 Kevin is using a free website called Duolingo to learn French and plans to take an online math class at Khan Academy. In addition to his studies, Kevin uses his computer to email friends, check the local YMCA blood drive calendar, and review the menu at the Belfast Soup Kitchen where he has lunch at least once a week.
According to Kachina: "Kevin now has access to the internet from the comfort of his apartment, and he loves his new computer!  The keyboard and touchscreen are so much easier to use, as is the mouse (although that will take a little time before mastering)."
Kevin and Kachina meet regularly to review specific skills and add to Kevin's list of goals. "The only problem we've had with the computer is that it's gotten Kevin a little TOO excited to add to his goal list," Kachina said with a smile on our Zoom call. "We've had to pace ourselves."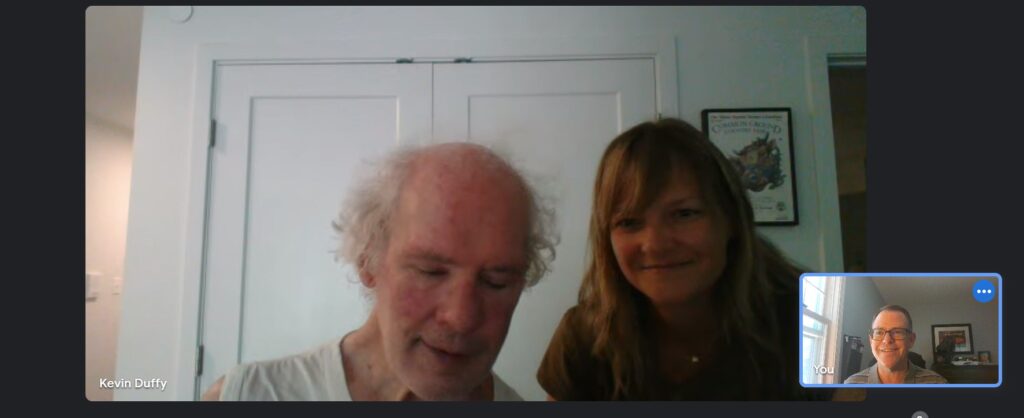 Kevin's physical challenges will always be an issue, but thanks to his computer and a lot of guidance, support, and encouragement from Kachina, Kevin is learning that he is still capable of great things. We're delighted to hear how Kevin has been enriching his life through the use of his new computer, and we can't wait to see where Kevin goes from here!
If your business has surplus technology in need of recycling or you know a company that does, please connect with Allen Cornwall, our Technology Reuse and Recycling Advocate at acornwall@itec3.org or 207-749-3431.
If you'd like to help us help people in need by contributing to our get IT. sponsorship fund, please CLICK HERE to make a tax-deductible donation.