Going all-in in New Hampshire | give IT. get IT. fills the void left by Computer Technology Assistance Corps
Over the years, we at give IT. get IT. have provided high-quality computers at low or no cost to people in need throughout New England. As a Maine-based non-profit organization, we primarily help our fellow Mainers thanks in large part to our great relationships with health and human service programs. Each year, these state entities refer hundreds of people to our program while providing other life-stabilizing services such as affordable housing, mental health counseling, job training, and food stamps.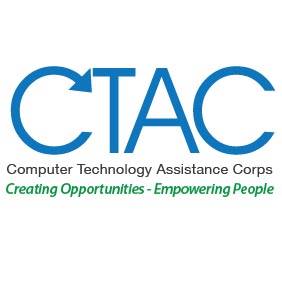 In nearby New Hampshire, we've left the majority of the digital inclusion work to the New Hampshire equivalent of give IT. get IT. Since 2010, Computer Technology Assistance Corps (CTAC) in Manchester, has offered a similar level of tech recycling services as we do. Like us, their recycling services supply the majority of the computers they use for their digital inclusion program.
As a New Hampshire-based non-profit organization, CTAC also established the same relationships with state health and human service programs while we at give IT. get IT. mostly stayed on the sidelines. We've still helped hundreds of New Hampshire residents over the years but only those who reach out to us directly through our website or word of mouth.
That situation is changing rapidly.
Due to a combination of factors including the recent loss of their Executive Director who oversaw day-to-day operations, CTAC's all-volunteer board of directors decided to close the business. The closing of CTAC is a huge blow to digital equity in New Hampshire. When the board reached out to us help them clean out the office, our Executive Director decided that give IT. get IT. needed to carry on CTAC's legacy of "Creating Opportunities – Empowering People."
Jodi has worked quickly and urgently to connect with as many of CTAC's community partners as possible and file the necessary paperwork to become an approved service provider. Some of these new partners for give IT. get IT. include the New Hampshire Department of Health and Human Services, the New Hampshire Employment Program, New Hampshire Employment Security, and the New Hampshire Housing Finance Authority. Working closely with these organizations, we will grab the baton from CTAC and ensure New Hampshire residents in need receive the computers, training, and support they need to achieve their goals.
That starts with cleaning out all the retired computers that CTAC had yet to process and refurbish at their office in Manchester, NH.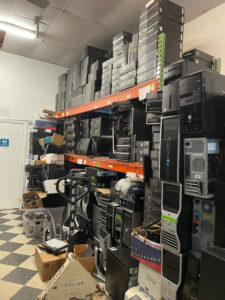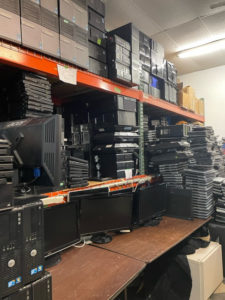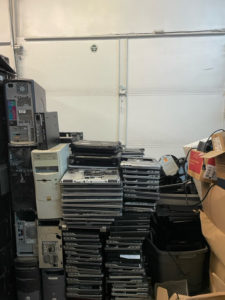 As you can see in the photos above, we're expecting a significant haul of reusable computers that we will refurbish and give to New Hampshire residents in need at low or no cost.
While this is very good news in the short term, we are appealing to the entire New Hampshire business community to support give IT. get IT. the way businesses like Emerson Ecologics and Southern New Hampshire University supported CTAC. Together, we can turn the problem of electronic waste into tools and opportunities for people in need.
CLICK HERE to learn about our organization in the short video about our organization that recently aired on WABI-5 in Bangor.
CLICK HERE to learn about the history of our organization and our 20-year legacy of helping our neighbors in need to acquire the tools, training, and support they need to change their lives.
CLICK HERE to learn about our R2 certified recycling services that enbable us to divert thousands of pounds of electronic equipment from landfills to the homes of people who would be otherwise unable to afford a computer. 
CLICK HERE to make a financial donation that will enable us to carry on CTAC's legacy throughout New Hampshire.
Finally, if your business has surplus or unwanted technology that you don't want to end up in a landfill and that may support our digital inclusion mission, please call our Operations Director Chris Martin at 207-322-6257 or email him at cmartin@itec3.org. We'd also appreciate you sharing this blog post with your entire network so we can connect with as many New Hampshire businesses as possible.
We look forward to sharing more details about our expanded services in New Hampshire here on the blog along with success stories of the people and businesses we help in the process. On behalf of all of us at give IT. get IT., thank you for taking the time to learn about us and support our mission.